If you're looking for an exciting and rewarding career with plenty of scope to develop and progress, the construction industry is worth serious consideration.
More people are thinking of entering the construction industry due to the fantastic opportunities and possibilities it presents. You could see yourself move rapidly up the career ladder, from an ambitious labourer into construction management and leadership roles. Perhaps one day, you'll even head up a construction company of your own.
Vincent Gurney is a construction recruitment agency that supports countless jobseekers with their career progression and aspirations. We understand that it can be daunting knowing where on earth to begin, let alone how to advance.
That's why our construction recruitment experts have put together this guide to answer some common questions from people like you, helping you plan your construction career path with greater clarity.
How do I get into construction?
Most construction career success stories begin with a job as a labourer. It provides a solid grounding in a wide variety of essential aspects of construction before you move ahead with building a successful career in construction.
What tasks will I be doing as a labourer?
Typically, the day-to-day duties of a labourer include:
Digging trenches, pits and other groundwork to prepare site foundations

Clearing the job site pre-project, which may include removing hazards and obstacles

Lifting heavy loads, either as an individual or part of a team

Climbing things to collect or deliver materials

Operating construction vehicles and other heavy machinery

Directing traffic on-site to ensure the safety of other crew members

Back-filling pits and trenches when required

Cleaning up the job site once the project is complete

Performing general maintenance of vehicles and equipment
Do you see yourself performing tasks like these? As you can see, there's so much variety and loads you will learn.
What entry-level qualifications and industry certifications do I need to become a labourer?
To begin your career as a labourer, it is recommended that you Level 1 Award in Health and Safety in a Construction Environment. This Level 1 Award Health and Safety qualification is aimed at learners who currently work, or want to work, in construction.
Successful completion will enable you to move on to apply for the new Construction Skills Certificate Scheme (CSCS) green card.
Why do I need a CSCS green card?
The Construction Skills Certification Scheme (CSCS) green card is the key certification required for a labourer job. It demonstrates that you understand the health and safety requirements for construction industry jobs.
A CSCS green card is valid for five years, and you apply for a new one once it expires. Most construction employers will ask for it.
If you don't have your Level 1 Award in Health and Safety in a Construction Environment, the CSCS also accepts:
An RQF Level 1/SCQF Level 4 Award in Health and Safety in a Construction Environment. Click here for a full list of awarding bodies offering this qualification. Please note: the RQF Level 1 Award is a lifetime qualification.

An SCQF Level 5 REHIS Elementary Health and Safety Certificate.

The NOCN/CSkills Awards Construction Health and Safety (F/618/0738) unit

A CSCS approved alternative qualification. Alternative qualifications with an expiry date can only be used once, so you will need to retake these qualifications in the future when you renew your Labourer card.
Remember, as well as having one of the above qualifications, you must also have successfully passed the CITB health, safety and environment test in order to obtain your CSCS green card.
The test costs £22, and you book it over the phone or online at the CITB website.
Here at Vincent Gurney, we're also proud to partner with Hampshire County Council who specialise in helping people enter the world of construction. So, please do contact us today if you're looking for further insight on courses so that we can make a full introduction.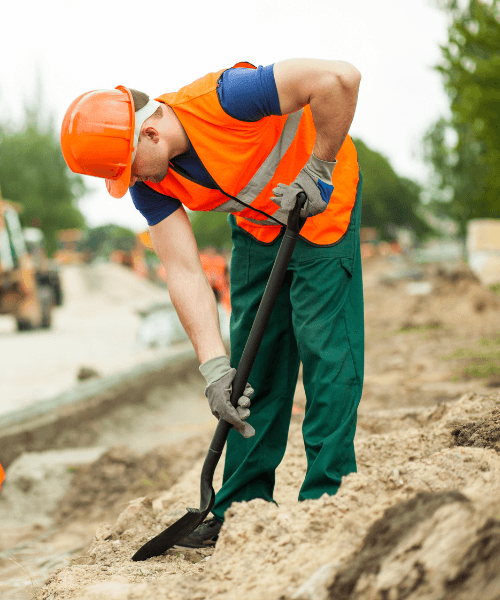 Are labourer jobs full-time or part-time? Permanent or temporary?
Labourers can work on either a full-time or part-time basis. Some labourers work on contracts, where they're hired for the duration of a specific project. Work might have seasonal peaks and troughs, as there tends to be more labouring jobs available during the UK summer months.
Where can I find the best jobs in construction?
There are several ways to search for labourer positions. Many labourers choose to join an agency like Vincent Gurney to get support while job seeking. We have strong relationships with a wide variety of construction companies across the UK and can help you find the best match for your skills, aspirations and personality.
You'll benefit from our assistance with search, cv and cover letter creation, application, interview, selection, negotiation – and we always provide post-placement care to make sure you're settled and making the most of the opportunity.
Totally new to the construction industry? We encourage you to limit your searches to entry-level positions or those that offer on-the-job training. Schemes such as apprenticeships offer proven, structured training that will really enhance your construction CV and fast-track you along labourer career paths.
What happens when I'm ready to move up the labourer career ladder?
Once you've built up your experience as a labourer you can progress to foreman or site manager by completing some part-time courses.
Alternatively, you can do more training to specialise in a chosen area such as plastering or plant operation, to name just a couple of options for skills training and professional growth.
Make the most of opportunities to learn on the job – as real-life experience is highly valued in construction. Ask for training with more experienced tradespeople in your team, giving you the chance to shadow them as they perform key duties. As you start to do them yourself, you will be supervised until you can complete them solo with confidence.
Who can help me on my career path?
Everyone you work with is likely to pass useful knowledge on to you on a multitude of construction topics – but there are some contacts that will help boost your career development even further.
Attend trade shows and strategic networking events to introduce yourself to key players in the construction industry. It's who you know as well as what you know, after all.
Professional organisations will be able to advise you on forthcoming events, as well as mentorship and coaching in the construction industry.
By building strong relationships with construction industry peers and mentors you will gain great career advice, get fresh project ideas, share best practice, learn about training opportunities, and – very importantly – raise your profile as a talented construction candidate who's going to make their mark on the sites of tomorrow.
Ready to progress your construction career? Vincent Gurney is here to be your guide and make it happen. Talk to us about your career goals today.