Harrison scores recruitment career goals with the power of exceptional management support
Recruitment Consultant Harrison became part of the Vincent Gurney team in 2019, where he currently specialises in placing mainly temporary candidates on mechanical, electrical and HVAC projects for multiple clients based across the UK.
A former professional sportsman, he's often the one to beat when it comes to holding our monthly team billing record.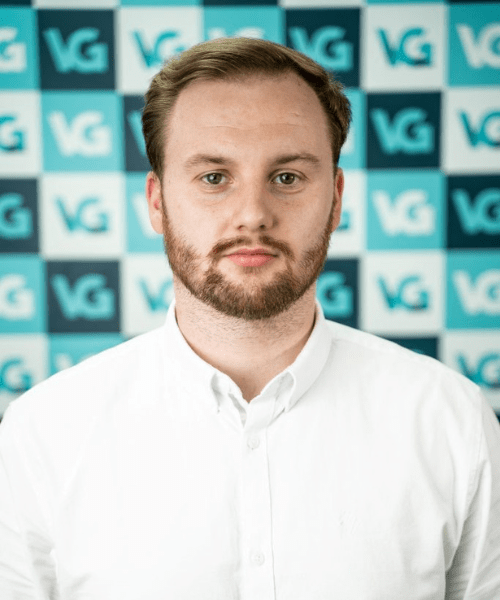 Harrison's story
"I grew up playing football in academies up to U21 level and have played semi-professionally for teams across the south. Recruitment seemed like a good career fit for me because there's scope to channel the drive and focus of a sports mentality into helping others and smashing team targets.
"An unlucky redundancy at the start of my career didn't deter me. Like all the best champions, it made me more determined on my recruitment career path. I'd been offered jobs in Reading and Farnborough but preferably wanted to work in Basingstoke, the town I call home.
"Tom and Johnie are also local lads and I'd been inspired by their entrepreneurial story of setting up Vincent Gurney at a similar age to me. I wanted to be part of a recruitment agency that was young and fresh, with loads of potential and hunger to grow.
"When Tom and Johnie offered me a job as a recruitment consultant, I was so excited to become part their impressive success story."
Why Harrison loves being part of the Vincent Gurney team
"The opportunities here at Vincent Gurney are endless. We are a growing rapidly recruitment consultancy and there's a lot of progression for people that have a passion to succeed.

"Outstanding management support, structured training and on-the-job experience empower me to learn and thrive. Tom, Johnie and others in the team have a wealth of recruitment expertise that they're only too happy to share, so that I can evolve my skill set and achieve my best. They give me advice on anything I need without hesitation and set realistic goals.

"Vincent Gurney's commission structure is very competitive and offers generous rewards for all the hard work and dedication that we put in. One of my biggest achievements is holding the monthly billing record.

"Hybrid working means gives me the flexibility to work where I like. A decent work-life balance is an important part of the Vincent Gurney culture, which works for me – especially if I fancy a kick about or need to train in my lunchbreak or after work."
We value Harrison because…
Dedication and tenacity are essential to Vincent Gurney's mission to deliver outstanding construction and engineering recruitment support for companies and clients alike.
Harrison embodies that perseverance and commitment, consistently delivering a recruitment service of exceptional quality.
He complements our team with his:
Hardworking attitude, loyalty and enthusiasm

Caring and considerate nature, positive mindset and ability to lend an ear to any given situation
In the future, Harrison has ample opportunity to become a more senior recruitment specialist here at Vincent Gurney – and we look forward to seeing his talents develop to their fullest potential.
"Harrison was Vincent Gurney's first hire for our temporary/contract division. He joined our company in the summer of 2019 and is coming up to 4 years with the business. He is a key member of our team and now runs one of our largest desks and it has been a great pleasure seeing him progress over the past few years…

… Harrison is the prime example of hard work and loyalty paying off because he is now really reaping the rewards. When joining a company as new as Vincent Gurney was at the time, he absolutely believed in our vision and has given his all since day one and is often one of the first in the office and the last to leave every day. He is loyal, hardworking, and just a great character to work with which I am sure all his other colleagues will agree with…

… An all-round good guy, Harrison isn't just my employee; he has become a good friend over the years, and I cannot wait to see what the future brings for him. Harrison has been an integral part of the Vincent Gurney journey to date, and I hope to share many more successful years with him and see him progress within this company as it continues to grow. The Sky is the limit for this guy."

– Tom Vincent, Managing Director
Get in touch with us
If you would like to learn more about joining the Vincent Gurney team, check out our current vacancies or contact us today.