Family business culture combined with a visionary approach to recruitment: A breath of fresh air for new team member David
Principal Consultant David joined the Vincent Gurney team in 2023, where he currently owns our building services desk in ways that strengthen our profile in the construction and engineering recruitment sector.
David takes a 360-degree role, cultivating strong relationships with both clients and candidates to make highly compatible hires in construction and property disciplines across the UK.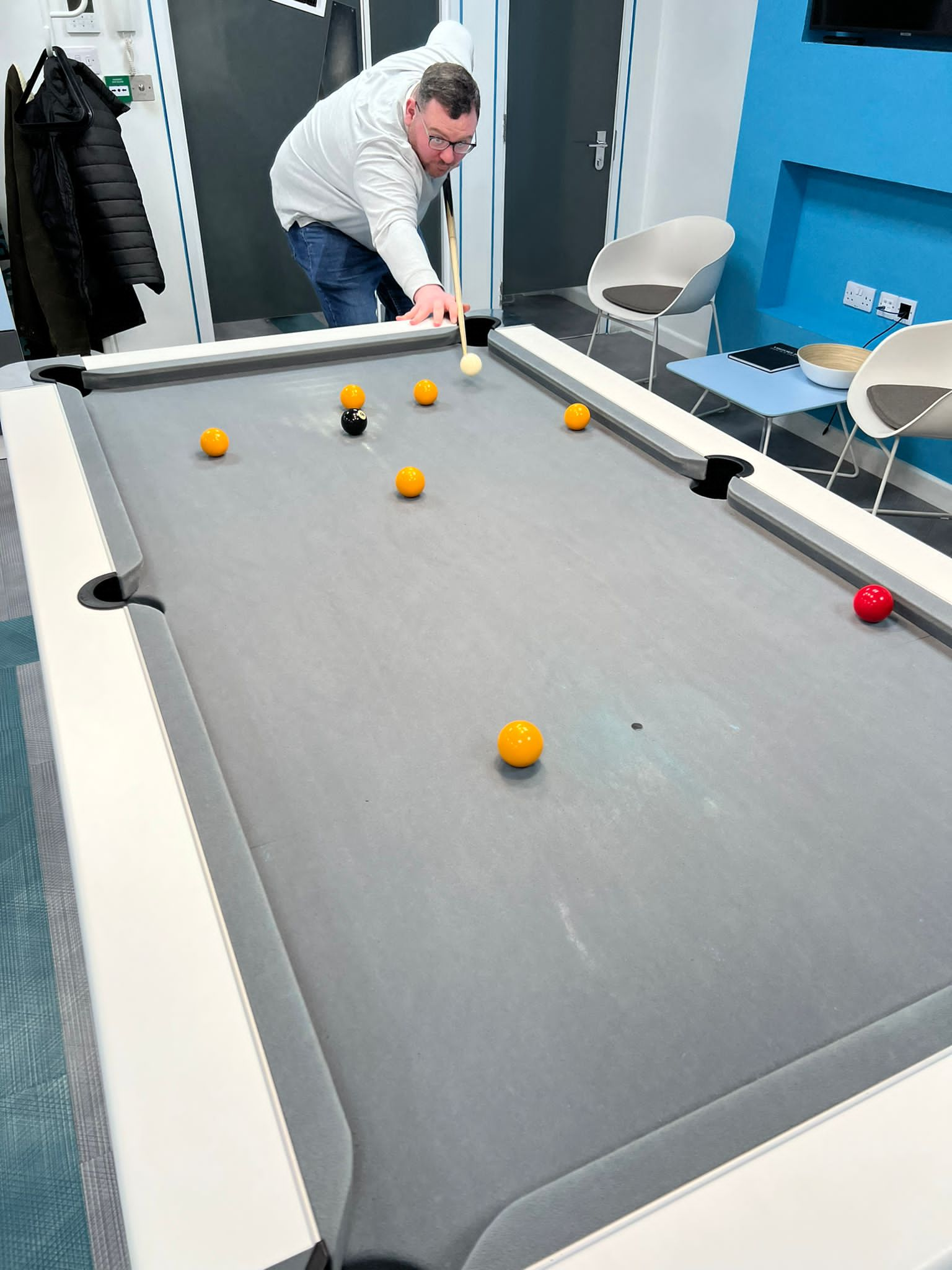 David's story
"Prior to joining Vincent Gurney, I worked within building services recruitment for around six years, focusing on white collar permanent roles. Having worked for one of the leading global recruiters, I was keen to move into a smaller recruitment company environment – somewhere with a strong 'family' feel, where you don't just feel like a number on the payroll.

"A big driver behind that decision was the desire for a career that fits around family life. Whilst I want exciting career progression, I also need autonomy and flexibility. My partner works full time, so it was imperative that I found a job that accommodates my childcare responsibilities.

"My first impressions upon meeting the Directors of Vincent Gurney were powerful. They have a clear vision of what they want to achieve. Their company goals and the cutting-edge technology they use to streamline recruitment processes show they're invested in success – today and in the future.

"After my interview, I got home and told my partner, "I want to be part of that company."
Why David loves being part of the Vincent Gurney team
"Where shall I start? My employment at Vincent Gurney has been a totally positive experience from day one.  The on-boarding process from interview to initial start date was made easy. We all hit it off from the get-go and I was made to feel comfortable here.

"As well as a warm welcome, I've been given comprehensive training on their systems. When joining a new business, it's always difficult to get used to new practices and procedures and they have been patient and so supportive.

"Vincent Gurney has such a modern approach to recruitment and invests keenly in the technology that gives them a competitive edge. It's exciting to be part of a pioneering business and I enjoy the optimism that comes with knowing we're ahead of the curve.

"The combination of excellent training, strong team spirit and slick systems allows me to deliver an optimal service for clients and candidates. In the short time I've been here, I'm proud to say I have already brought in large contractors, got lots of interviews booked in and raised my profile in the sector.

"I've definitely found the family culture I was looking for. For anyone thinking of joining Vincent Gurney, I would say that I think you'd have to search hard to find another recruitment company that is as visionary, yet flexible and supportive, in their company culture and management style. It's a breath of fresh air."
We value David because…
A thirst for knowledge and professional development are characteristics we look for in all who join our team. Vincent Gurney's mission to be a leading player in the construction and engineering recruitment industry depends on that unbridled enthusiasm.
Along with his extensive recruitment expertise, David has all the enthusiasm and other qualities our business needs to deliver a recruitment service that's ahead of the game.
David complements our team with his:
Unparalleled industry knowledge
After the brilliant start David has made at Vincent Gurney, we can't wait to see what else he will achieve as part of our team.
"Dave has been a great addition to the Vincent Gurney team. He joined our business at the start of 2023, and he has fit right in. Dave came from much larger recruitment business than Vincent Gurney but he believed in the journey we are on and wanted to be a part of it. He joined our company to take our construction permanent division to the next level, grow a team and move into management which he is well on track to do.

Dave has bought into the Vincent Gurney way of doing things, and he is now finding his rhythm and doing the deals he came to do. I have no doubt he will be adding members to his team very shortly. As well as showing he is the good recruiter he told us he is, he is an all round great guy. He is very positive and adds great character to our team – he has some unbelievable stories and often has the team in stitches.

I am thrilled to have Dave at Vincent Gurney and can wait to see what the future holds for him here. Watch this space."

– Tom Vincent, Managing Director
Get in touch with us
If you would like to learn more about joining the Vincent Gurney team, check out our current vacancies or contact us today.