From temporary contractor to permanent project manager within one month – Leigh's story
Construction candidate seeks recruitment support to release project management ambitions
Leigh Bowen's career in construction began with a job as a Duct Fitters Mate, back in 2008. Showing an independent spirit from the outset, Leigh then invested a lot of his own personal time into gaining various credentials in his field. That training paved the way for his trajectory into construction management.
Based in London, Leigh had been freelancing as a contractor for some time. Enjoying the autonomy, he decided he wanted to move into project management. Running his own jobs really appealed to Leigh – and he had the skills and experience to make that career move a success.
Career progression is particularly important to Leigh but couldn't see a way to achieve his full potential in a contracting scenario. He realised that joining a company on a permanent basis would be the best route to turning his aspirations into reality.
Job security was another factor driving Leigh's career plans. Having recently become a father, he needed financial stability and the other benefits a permanent position usually offers.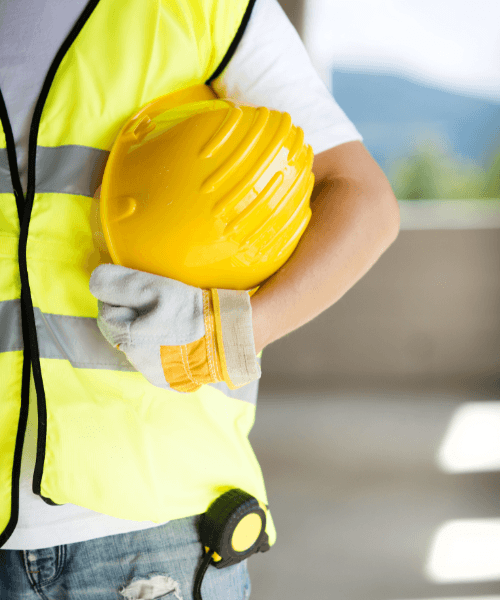 Vincent Gurney – construction recruitment specialists on a mission 
Here at Vincent Gurney, we know how to spot a candidate with sparkling potential. Leigh was already on our books, having previously applied for a role we were recruiting for. His knowledge, connections and ambition impressed us – and we knew he would stand out to employers too.
Leigh must have been as confident in our abilities as we were in his because he agreed to collaborate exclusively with us as his recruitment consultant for a period of two weeks. We didn't have a job for him at the time – but he put his trust in us because he had seen us win brilliant opportunities for his friends.
We were on a mission – to find Leigh a suitable new position with a company that would offer him the opportunity of career progression and security.
How Vincent Gurney helped Leigh find his dream job in construction
With over 15 years of experience and a wide network of contacts, Vincent Gurney is ideally placed to find fantastic opportunities for people looking for careers in the construction industry.
Here's what we did to support Leigh in his job search:
Spoke with Leigh for some time and listened carefully, so we could understand his situation and exactly what he was looking for

Built him a candidate profile based on what that conversation had revealed

Gave Leigh approval on the final version of his profile to make sure he was happy with the representation

Took Leigh's candidate profile "to market" and shared his candidate profile to our network

Significantly increased Leigh's chance of being noticed by companies that were the right match

Fielded enquiries from the many companies that expressed an interest in Leigh

Supported Leigh with interview arrangements and comprehensive preparation

Assisted with negotiations over job offers
A promise kept and a top job won  
Choosing Vincent Gurney as his construction recruitment specialist has resulted in the following benefits for Leigh:
From registration to job offer within one month – success!

Now thriving in his new role at Sharpe Ventilation Services Ltd – a ductwork/ventilation contractor based in Northern Ireland, for which Leigh is managing London projects

Interview requests within two weeks of initial engagement with Vincent Gurney

Encouragement and practical jobhunting support from a recruiter that really listens
"Tom from Vincent Gurney was an absolutely outstanding recruitment consultant from start to finish. He asked me to give him two weeks and he would find me a job – and he was a man of his word! Within a fortnight I had an interview and, not long after, I accepted a fantastic job offer. Brilliant service!"

– Leigh Bowen, Construction Candidate and Project Manager at Sharpe Ventilation Services Ltd